"Love taken seriously is a radical outlook, a major departure from the psychological orientations that rule the world."
—Marianne Williamson, A Return to Love
Services Offered by Ann Ladd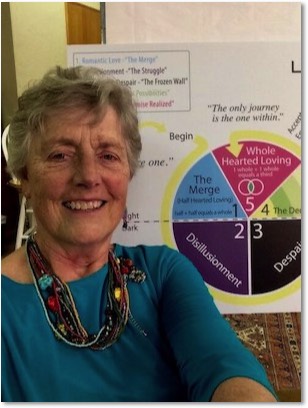 PLEASE NOTE:
In light of the current complex health situation, I am providing ZOOM sessions for clients, as well as seeing clients in my office using safety precautions. My fee is $125/session, and I have a sliding scale, if needed. I do not bill insurance. My practice is currently focused on couples only.

Contact me HERE for more information.

Please take care and be well.
Ann Ladd, PhD, LCSW
"
We finally know what's different about couples that stay happily together.
It's not that they are better matched, better looking, more in love or more passionate. It's not that they have fewer differences or less to fight about.
"The difference between successful and unsuccessful couples is
how
they handle these differences. "The good news is that anyone can learn to do relationships better and smarter. It turns out you CAN learn how to get the feeling back . . . and keep love alive."
— Diane Sollee, smartmarriages.com
---
We are relational beings. Whether early in life or in adulthood, coming to know ourselves within the context of being known – genuinely understood, honored, and cared for – can make all the difference.

This skill-based couples class focuses on creating a long-term committed relationship based on respect, passion, pleasure and love. Workbook included.

What: Workshop Series

When: Friday evenings and Saturdays
April 16 - June 11, 2021


Click HERE to download the brochure and schedule.

---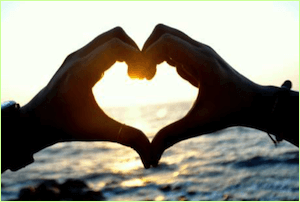 Intensive Couples and/or Individual Work
As a senior therapist with an expertise in relationships and emotional healing, Dr. Ladd is available for intensive work with couples or individuals. Our defensive/protective behavior and attitude patterns reduce intimacy and damage trust in relationships.
In these sessions, Dr. Ladd introduces her conceptual framework for deep emotional healing and facilitates the emotional processing work that allows the relaxation of these old patterns. She assists in developing an ongoing strategy for application of the new information in your important relationships, including yourself.
Dr. Ladd recommends that these sessions be in conjunction with an ongoing therapeutic relationship with someone near the person's home base.
What:
2-3 day sessions (2-3 hours, twice a day) with individuals or couples in my office or their home.

When:
Scheduled by appointment only.
Click HERE to contact Dr. Ladd for more information.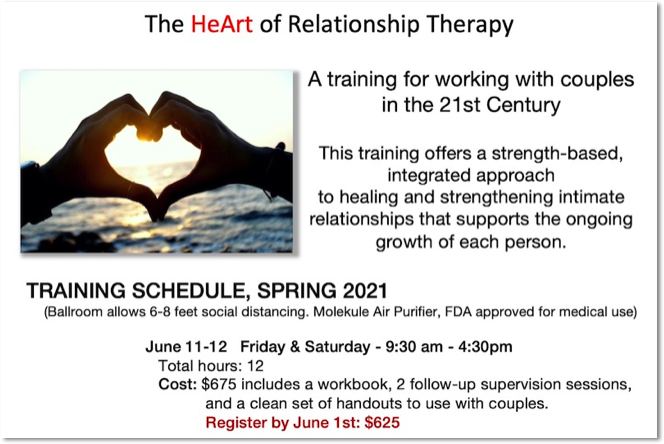 This series of classes will explore more deeply how the Nine Types of the Enneagram affect relationships. Each class will be dedicated to two of the nine types. Handouts included.
What:
Six 2-hour sessions
When:
2021 (dates To Be Determined)
Click HERE to download sample flyer and registration.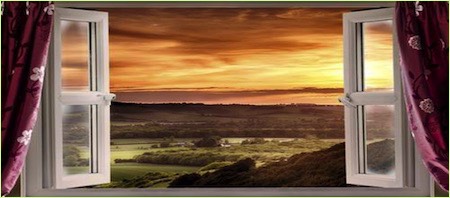 Dr. Ladd is available for workshops and training sessions to introduce her Heart of Healing approach to therapists. Length of time and scope of training can be determined according to the needs of the organization. Handouts provided.
Her book,
Heart of Healing:
A Therapist's Journey with Clients,
is available for purchase.

Click HERE to contact Dr. Ladd for more information.