"You wander from room to room hunting for the diamond that is already around your neck."
— Rumi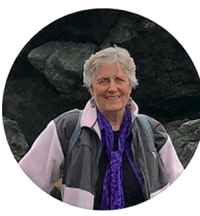 Ann was raised in Kansas in an active family with five siblings, working class parents, and all four grandparents who lived throughout her childhood. She graduated from the University of Kansas in 1965 with a degree in Physical Therapy and married attorney David Ladd in Chicago in 1966.

Ann and her husband moved to Washington DC in 1980 for David's new job as Registrar of Copyrights. Here Ann became a Master Trainer in the PAIRS® program, a skill-based, comprehensive course for couples and began her private practice as a psychotherapist. Ann also did consulting and life-skill workshops in a wide variety of business, non-profit and government organizational settings. She combined her love of teaching with her understanding and skill as a psychotherapist to create practical, entertaining psycho-educational workshops.
Combining her degrees in Physical Therapy (BS – 1965), Counseling (MS – 1975), Holistic Health Care (PhD – 1978) and Social Work (MSW –1989), Ann has developed an approach to deep personal growth and healing that includes mind, body, emotions and spirit. Her practice in Virginia was called Life Patterns for Health reflecting her therapeutic approach that focuses on strengths and practical functionality.
Widowed unexpectedly in 1994, Ann moved to her current home in Colorado. Here she founded The Connecting Place, a center for healing and strengthening the relationship with oneself and with others. Ann teaches a couples' class —
The HeArt of Relationships
— that is based on the
Love Cycles
approach to healing relationships developed by her colleague, Linda Carroll, LMFT. Ann has worked with hundreds of individuals and couples across the United States, Canada and England. She also trains mental health professionals in the field of relationships and the emotional bonding process, Heart of Healing, that she developed.
In addition to her practice in Pueblo, Ann traveled to Corvallis, Oregon every other month for 20 years to conduct intensive weekend workshops based on her work described in the
Heart of Healing: A Therapist's Journey with Clients
(2010). She also created and co-led
themed workshops
for women with her Corvallis colleague, Linda Carroll.
In addition to her private practice and teaching, Ann loves painting, travel, pickleball, biking, singing, skiing, cooking and playing with her family, friends and two rescued doggie friends, Buddy and Poppy.